Symposium 2018, October 26 – 29
We are proud to announce that our 24th Annual CCWR Symposium will be held Oct 26 – 29, 2018 near Petaluma, CA at the Earthrise Retreat Center. We greatly appreciate the feedback that we requested last December about this type of venue. This will not be your normal symposium experience and wanted to make sure that our members would accept a small change.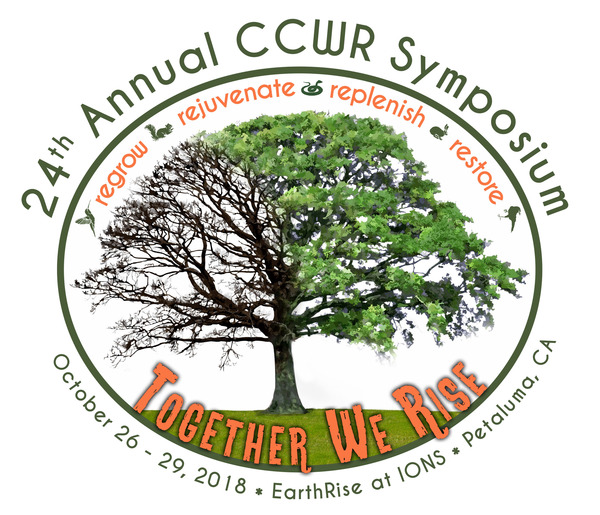 We believe that after a very intense year such as 2017 and likely 2018 as well, that our members really needed a retreat. Somewhere we all could go, pay one fee, be together surrounded by beautiful oak woodlands, and have three locally sourced, sustainable and healthy meals a day. The venue is so beautiful and peaceful, it was hard to pass up to opportunity.
However, with this venue comes certain constraints. First, we will have to cap our attendees to 150 people a day. This is because meals are included and the kitchen can only accommodate 150 people. The site can sleep 120 people, so there is room for some to come in just for a day – it just depends on the number of people staying on site. There are 40 rooms with two beds, so the idea is to have a roommate, which most of us do already. There are also 23 rooms with one bed for couples or single occupancy. This set-up gives us an amazing opportunity to network and get to know each other outside the chaos of the season.
Some of our ideas for this year include a beer and wine tasting night, outdoor capture classes, outdoor or indoor yoga, bird watching tours…just to name a few. We are already working on speakers and presentations.
Registration Logistics
We will have a few different options for registration. Unlike the usual symposium where you pay for lodging and food separately from registration, this will be a one-time all inclusive payment for everything, unless you choose to sleep off-site. We will also have a staggered registration process. We will give priority to speakers to book their rooms, and they will have the option to stay on-site for the whole symposium or commute in for one or two days.
Once we have our speakers lined up and their rooms reserved, we will open registration for anyone who wants to stay on-site. We hope that everybody can choose a roommate before registration; however we will also match people up who want a roommate.
Once we reach our maximum on-site goal, we will have the numbers to know how many commuters (i.e., those that come for the day but sleep off-site) we can have. Commuters will have access to the presentations all day long as well as three meals provided for them.
We have done some math, phew… What we have come up with is a reasonable cost for the different tiers. "All inclusive" covers all food, lodging, registration and banquet tickets from Friday afternoon at 4 pm to Monday at 9 am, but labs will be extra. Commuter costs will cover registration and three meals per day only. Earthrise was very clear that if someone comes on-site they pay for three meals as they have had "freeloaders" in the past. There is no way around including the three meals per day since they are very firm on this point.
So, here is what we have come up with for the symposium costs:
Double Occupancy all inclusive (a twin bed in shared room) – $425
Couple Occupancy all inclusive – $825 (non-attending spouses already included in cost, it's a deal if you both attend)
Single Occupancy all inclusive – $625
2 Day Commuter – $175
1 Day Commuter – $100
Stay tuned!
CCWR Board (send email to the board at info@ccwr.org)